Valentine's Day - The Holiday of Love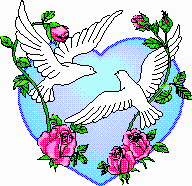 It seems appropriate, as we celebrate the day of love, to consider the true meaning of love as told to us by the One who created it. There are many interpretations of the Bible, and many different things that people have emphasized from it, but one thing should be clear to all: God wants us to love. This page, therefore, contains the following sections:



The Command to Love
The Good Samaritan
The meaning of Love

Love your enemies, do good to them, and lend to them without expecting to get anything back. Then your reward will be great, and you will be sons of the Most High, because he is kind to the ungrateful and wicked. -Luke 6:35The meaning of Love
A new command I give you: Love one another. As I have loved you, so you must love one another. All men will know that you are my disciples, if you love one another. -John 13:34-35

Be devoted to one another in brotherly love. Honor one another above yourselves. -Romans 12:9-10

Let no debt remain outstanding, except the continuing debt to love one another, for he who loves his fellowman has fulfilled the law. The commandments, "Do not commit adultery," "Do not murder," "Do not steal," "Do not covet," and whatever other commandment there may be, are summed up in this one rule: "Love your neighbor as yourself." Love does no harm to its neighbor. Therefore love is the fulfillment of the law. -Romans 13:8-10

Do everything in love. -1 Cor 16:14

You, my brothers, were called to be free. But do not use your freedom to indulge the sinful nature; rather, serve one another in love. The entire law is summed up in a single command: "Love your neighbor as yourself." -Gal 5:13-14

Be completely humble and gentle; be patient, bearing with one another in love. -Eph 4:2

Be imitators of God, therefore, as dearly loved children Live a life of love, just as Christ loved us and gave himself up for us as a fragrant offering and sacrifice to God. -Eph 5:1-2

Bear with each other and forgive whatever grievances you may have against one another. Forgive as the Lord forgave you. And over all these virtues put on love, which binds them all together in perfect unity. -Col 3:13-14

Now about brotherly love we do not need to write to you, for you yourselves have been taught by God to love each other. And in fact, you do love all the brothers throughout Macedonia. Yet we urge you, brothers, to do so more and more. -1 Thes 4:9-10

Let us hold unswervingly to the hope we profess, for he who promised is faithful. And let us consider how we may spur one another on toward love and good deeds. -Hebrews 10:23-24

If you really keep the royal law found in Scripture, "Love your neighbor as yourself," you are doing right. -James 2:8

Now that you have purified yourselves by obeying the truth so that you have sincere love for your brothers, love one another deeply, from the heart. -1 Peter 1:22

Above all, love each other deeply, because love covers over a multitude of sins. -1 Peter 4:8

How great is the love the Father has lavished on us, that we should be called children of God! And that is what we are! The reason the world does not know us is that it did not know him. -1 John 3:1

This is how we know who the children of God are and who the children of the devil are: Anyone who does not do what is right is not a child of God; nor is anyone who does not love his brother. This is the message you heard from the beginning: We should love one another. -1 John 3:10-11

This is how we know what love is: Jesus Christ laid down his life for us. And we ought to lay down our lives for our brothers. -1 John 3:16

Dear children, let us not love with words or tongue but with actions and in truth. -1 John 3:18

Dear friends, let us love one another, for love comes from God. Everyone who loves has been born of God and knows God. Whoever does not love does not know God, because God is love. This is how God showed his love among us: He sent his one and only Son into the world that we might live through him. This is love: not that we loved God, but that he loved us and sent his Son as an atoning sacrifice for our sins. Dear friends, since God so loved us, we also ought to love one another. No one has ever seen God; but if we love one another, God lives in us and his love is made complete in us. -1 John 4:7-12





On one occasion an expert in the law stood up to test Jesus. "Teacher," he asked, "what must I do to inherit eternal life?"
"What is written in the Law?" he replied. "How do you read it?"
He answered: "'Love the Lord your God with all your heart and with all your soul and with all your strength and with all your mind'; and, 'Love your neighbor as yourself."'
"You have answered correctly," Jesus replied. "Do this and you will live."
But he wanted to justify himself, so he asked Jesus, "And who is my neighbor?"
In reply Jesus said: "A man was going down from Jerusalem to Jericho, when he fell into the hands of robbers. They stripped him of his clothes, beat him and went away, leaving him half dead. A priest happened to be going down the same road, and when he saw the man, he passed by on the other side. So too, a Levite, when he came to the place and saw him, passed by on the other side. But a Samaritan, as he traveled, came where the man was; and when he saw him, he took pity on him. He went to him and bandaged his wounds, pouring on oil and wine. Then he put the man on his own donkey, took him to an inn and took care of him. The next day he took out two silver coins and gave them to the innkeeper. 'Look after him,' he said, 'and when I return, I will reimburse you for any extra expense you may have.'
"Which of these three do you think was a neighbor to the man who fell into the hands of robbers?"
The expert in the law replied, "The one who had mercy on him."
Jesus told him, "Go and do likewise." --Luke 10:25-37





Greater love has no one than this, that he lay down his life for his friends. -John 15:13

But God demonstrates his own love for us in this: While we were still sinners, Christ died for us. -Romans 5:8

I pray that out of his glorious riches he may strengthen you with power through his Spirit in your inner being, so that Christ may dwell in your hearts through faith. And I pray that you, being rooted and established in love, may have power, together with all the saints, to grasp how wide and long and high and deep is the love of Christ, and to know this love that surpasses knowledge--that you may be filled to the measure of all the fullness of God. -Eph 3:16-19

If I speak in the tongues of men and of angels, but have not love, I am only a resounding gong or a clanging cymbal. If I have the gift of prophecy and can fathom all mysteries and all knowledge, and if I have a faith that can move mountains, but have not love, I am nothing. If I give all I possess to the poor and surrender my body to the flames, but have not love, I gain nothing.
Love is patient, love is kind. It does not envy, it does not boast, it is not proud. It is not rude, it is not self-seeking, it is not easily angered, it keeps no record of wrongs. Love does not delight in evil but rejoices with the truth. It always protects, always trusts, always hopes, always perseveres.
Love never fails. But where there are prophecies, they will cease; where there are tongues, they will be stilled; where there is knowledge, it will pass away. For we know in part and we prophesy in part, but when perfection comes, the imperfect disappears. When I was a child, I talked like a child, I thought like a child, I reasoned like a child. When I became a man, I put childish ways behind me. Now we see but a poor reflection as in a mirror; then we shall see face to face. Now I know in part; then I shall know fully, even as I am fully known.
And now these three remain: faith, hope and love. But the greatest of these is love.




Email Me